PHL, CHINA ink tourism implementation deal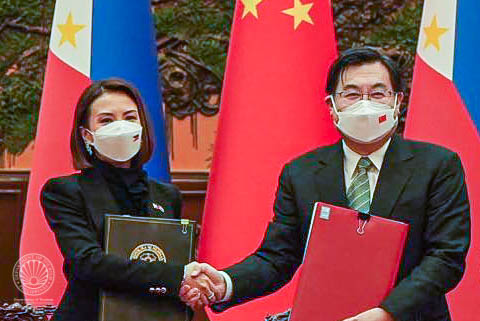 BEIJING, China– The Philippine Department of Tourism (DOT) and its counterpart Ministry of Culture and Tourism of the People's Republic of China have signed an Implementation Program on Tourism Cooperation on Wednesday (January 4) to push for the bilateral tourism cooperation between the Philippines and China.
Philippine Tourism Secretary Christina Garcia Frasco signed the Implementation Program (IP) on Tourism Cooperation together with People's Republic of China Culture and Tourism Minister Hu Heping in the presence of Philippine President Ferdinand Bongbong Marcos, Jr. and PRC President Xi Jinping.
The ceremonial signing was one of the highlights of the three-day state visit of President Ferdinand "Bongbong" Marcos, Jr. in the Chinese capital Beijing, where Frasco is one of the Cabinet officials who joined the President.
"We are grateful for China's commitment and interest in partnering with the Philippines as we usher in this new era of tourism focused on building the industry into a stronger, more sustainable, and more resilient economic pillar for the country's transformation into a tourism powerhouse in Asia," Frasco said.
"This Implementation Program with China will generate massive employment opportunities and investments across all sectors of tourism throughout the Philippines. Our governments will work together on increasing tourist arrivals, resuming and adding direct flights to key and emerging destinations, joint promotional activities, and inviting tourism investments in infrastructure, among others," explained Secretary Frasco.
The Implementation Program aims to realize the goals stated in the Memorandum of Understanding signed by the Philippines and China back in September of 2002.
Under the five-year cooperation, both countries have agreed to encourage and support the exchange of their respective administrators and tourism professionals in order to strengthen the mutual development in the field of hotels, resorts, cruise, port, tourism products, and other related industries and competency standards.
It also covered the cooperation on tourism safety where both parties will make joint measures to guarantee the rights, interests, and safety of tourists visiting each other's country.
Local tour operators and travel agencies will also take part in the IP by jointly advertising both the countries tourist offerings through promotional materials by highlighting significant attractions and destinations as well as enhancing public information exchange.
Collaborative workshops and training sessions will be conducted which will cover topics including cruise/port development, tourism products and lake development, understanding the tourism market and industry, search and rescue operations for first-aid measures as well as security measures.
Both the Philippines and China are expected to support each other's tourism departments and enterprises in holding travel fairs, tourism exhibitions and other promotion initiatives, to inform the traveling public about their products and services, at the same time, cultivate awareness of environment protection and sustainable development in the growth of their respective tourism industries.
"Also among the salient points of this Implementation Program is to advocate the best practices and knowledge in sustainable tourism which includes the promotion of eco-friendly products and services. We will also encourage investments in tourism infrastructure and support tourism enterprises of both countries to cooperate in the development of tourism projects in accordance with the current laws and regulations in each other's countries," enthused Secretary Frasco.
A technical working group composed of officials from the DOT and China's Ministry of Culture and Tourism of the People's Republic of China will meet at least once a year or whenever necessary to further discuss the implementation covered in the agreement.
In 2019, the Philippines recorded an 8.26 million international visitor arrivals where China placed second as the country's top tourist market with a total of 1.74 million arrivals.
-30-
Published:January 5, 2023
Recent News