Second (2nd) Online Master TESOL Certification Course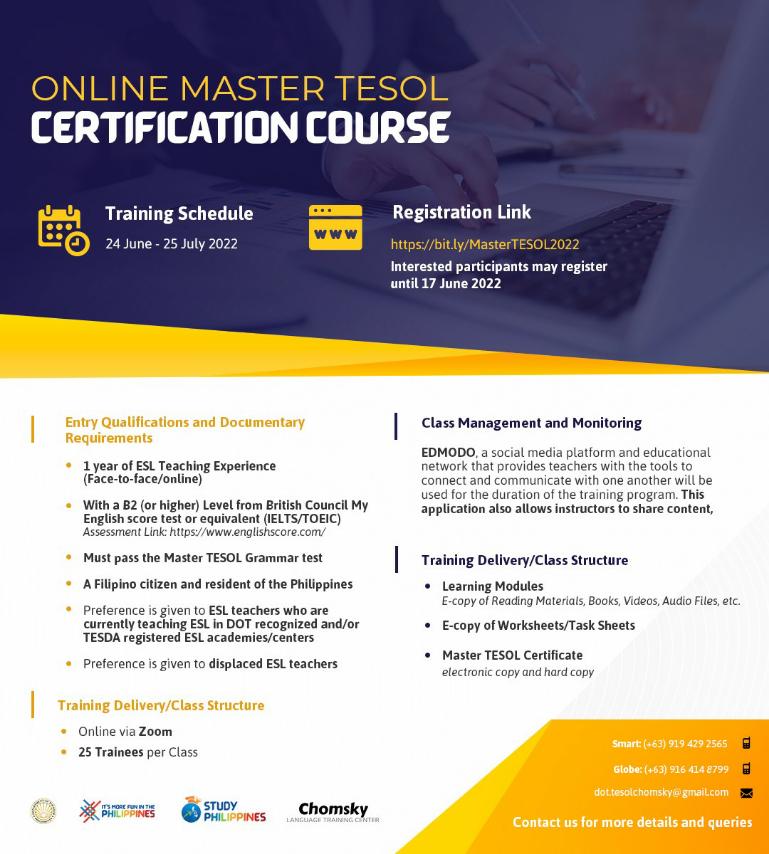 The Department of Tourism (DOT) once again invites 200 English as Second Language (ESL) teachers in the country to participate in the Second (2nd) Online Master Teaching English to Speakers of Other Language (TESOL) Certification Course to be held on June 25 to 26, July 2, 3, 9, 10, 16, 17, 23 and 24.
The reopening of the country's borders to internal travellers benefits the country's ESL industry which has been severely affected by COVID-19. To date, some schools in Cebu and Baguio are now conducting face-to-face classes with enrollees from Japan, Korea, Vietnam, China, Taiwan, Israel, the Middle East, Israel, and Thailand. According to the Cebu Association of Language Academies (CALA), the number is expected to increase in the coming days due to numerous inquiries from education agents based abroad.
The DOT sees the importance of equipping more teachers with relevant teaching skills to meet the educational needs of the students.
The 120-hour Online Master TESOL Certification Course is one of the initiatives of the Department through the Office of Product and Market Development to support and sustain the country's ESL industry. The course aims to make ESL teachers more employable and globally competitive by providing them with current and appropriate teaching methodologies.
The conduct of the 2nd Online Master TESOL Certification Course is a manifestation of DOT's commitment to capacitate ESL teachers as mentioned by Tourism Secretary Bernadette Romulo-Puyat in her message during the opening ceremony of the First (1st) Master TESOL Certification Course on September 27, 2021, "The Department of Tourism will continue to identify and provide other capacity-building programs to further enhance the qualification of our English teachers."
The 1st Online Master TESOL was held on September 27 to October 10, 2021, at the height of the COVID-19 pandemic.
252 teachers from all over the Philippines successfully finished the course and are now registered with the American Licensing Authority of International English Language Teaching, an online database that serves as a reference for employers to validate the TESOL Certification of ESL teacher applicants.
The 1st TESOL Certification Course was a huge success as some of the scholars were hired by ESL schools abroad with TESOL as one of the main qualifications for employment.
Established in 2018, Chomsky Language Training Center aims to provide internationally-aligned and globally-recognized training programs to ESL teachers in the Philippines, and will conduct the certification course.
Below are the entry qualifications for the applicants:
•At least one (1) year of ESL teaching experience: Face-to-Face/Online (Without TESOL Certificate);
•Certificate of Employment;
•Common European Framework of Reference for Languages (CEFR) Level = B2 (via British
Council 'My English Score') or any Proof of English language proficiency level equivalent to
CEFR B2 (i.e.: IELTS, TOEIC/TOEFL, OET).
•Must pass the Master TESOL grammar exam and interview;
•Filipino citizen and resident of the Philippines; and
•Preference is given to displaced ESL teachers or currently teaching in DOT recognized and /or TESDA registered academies.
Successful graduates of this certification course will again be registered with the American Licensing Authority of International English Language Teaching.
Registration will be on a first-come, first-served basis. Interested participants may register thru this link:
https://bit.ly/MasterTESOL2022 on or before June 17, 2022.
Contact Person/s:
For more information regarding the Master TESOL Certification Course, interested participants may contact Ms. Marissa A. Masangkay and Ms. Akiko Kate L. Sibug of DOT through email addresses: marissa_masangkay@yahoo.com and alsibug@tourism.gov.ph or Ms. Berannie B. Balag of Chomsky Language Training Center at dot.tesolchomsky@gmail.com.
Published:June 7, 2022
Recent News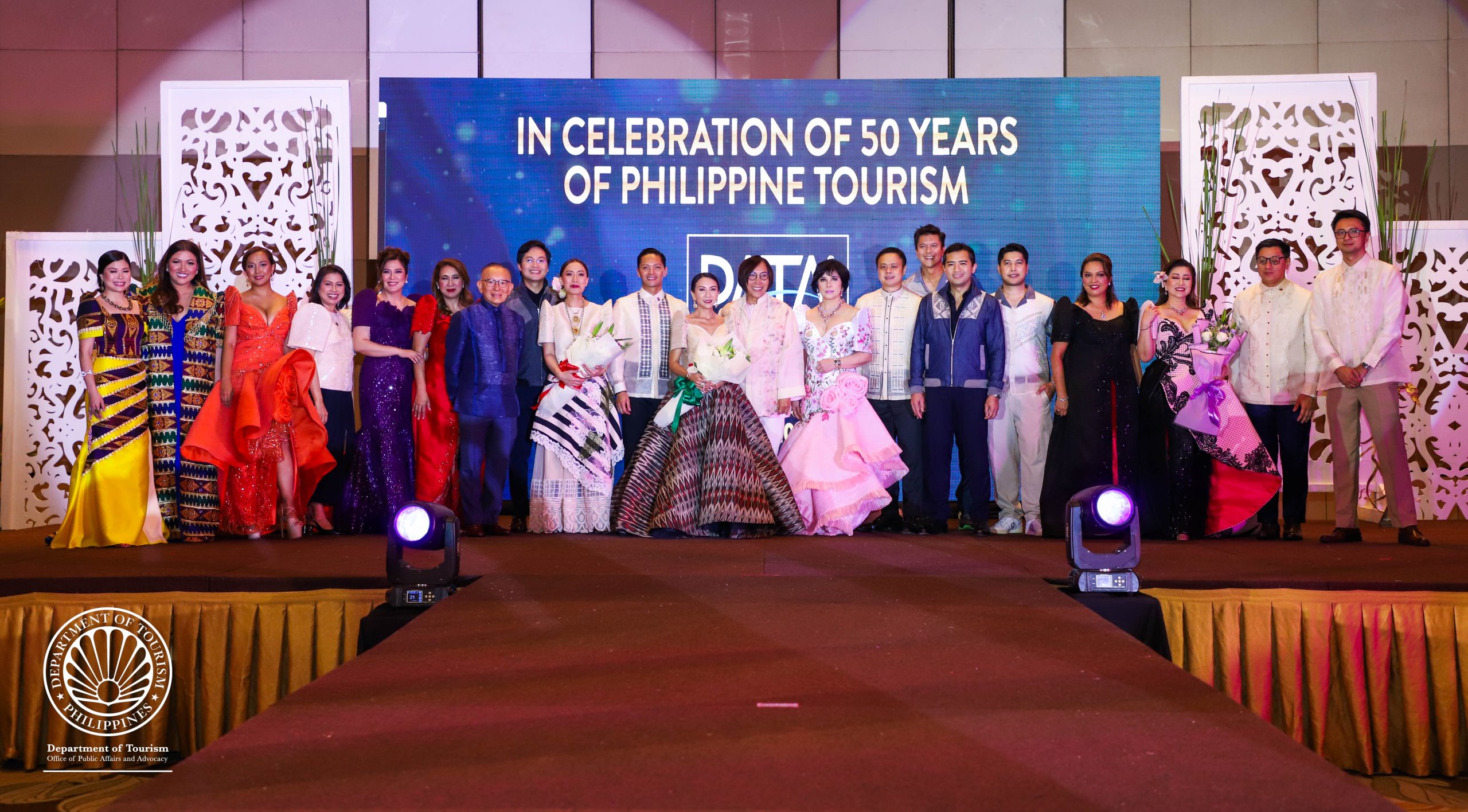 DOT lauds PATA's initiative to rebuild tourism communities in Laguna, Pagsanjan Falls
May 13, 2023