TWG convened to drive up CRK utilization; travel and tourism to remain 'spark of hope' for Clark – Secretary Frasco
The Department of Tourism (DOT), led by Secretary Christina Garcia Frasco, together with the Department of Transportation (DOTr) convene with members of the Civil Aeronautics Board (CAB) Technical Working Group (TWG) on Thursday (June 1) to map out strategies that will enhance the utilization of the Clark International Airport (CRK). 
Delivering her opening message at the meeting, Secretary Frasco, who sits at the CAB Board as its Vice Chairperson, emphasized the importance of fully supporting Clark as the next major gateway of the country as this would greatly increase domestic and international tourism in Northern and Central Luzon.  
"Whether by air, by land, or by sea, the first and last impression that we give to our tourists and travelers is important. And that is why, our President has directed the enhancement of our gateways on one hand, and on the other hand, to ensure that we fully open up the Philippines to tourism and travel by ushering in the resumption of international flights as well as domestic flights, and the addition of more routes, especially and including to and from Clark," Secretary Frasco said.  
In fulfillment of the vision of President Ferdinand "Bongbong" Marcos, Jr. for the Philippines to take a primary position as a tourism powerhouse in Asia and in the world, the DOT under the leadership of Secretary Frasco has identified the improvement of tourism infrastructure and accessibility as among its seven main objectives. 
"I am very grateful to the Department of Transportation for our collaboration that began very early on in the Marcos Administration, upon the directive of our President, to give attention to one of the most essential components of tourism and travel in the Philippines, our gateways," Secretary Frasco said.  
Representing DOTr Secretary Bautista at the meeting, Undersecretary Roberto C.O. Lim shared that Clark, including the CRK, has come a long way from its humble beginnings, and said that "It was not a very smooth travel, there were ups and downs in trying to move the aviation community outside of Manila. It was a question of mindset, it was a question of infrastructure, it was a question of general economic development that one could argue was just not in place."  
"The airlines are here now and as you can see, last month in April, they've launched several flights both domestic and international. We have to make sure they don't leave Clark empty. So, we ask all of you, let us make sure we support the carriers not only in the air but in the integrated local plan coming from the local communities, coming from integrated tourism plan on ground. I think a good measure to assess whether we are progressing well is to take the case of an individual traveler who arrives in Clark. He should be comfortable enough to find his way travelling alone from the time he lands and exits the airport, there must be land transportation, signs, tourism programs, and all other packages that will make it easy for him to move around," the Undersecretary said. 
The CAB with the Department of Transportation (DOTr) as chair, the DOT, Bases Conversion and Development Authority (BCDA), Civil Aviation Authority of the Philippines (CAAP), Clark International Airport Corporation (CIAC), Luzon International Premier Airport Development (LIPAD), other concerned government agencies, and private stakeholders comprised the TWG. It was formed to maximize the potential and efficiency of CRK as a key aviation hub, as well as address various challenges and opportunities associated with the operations and development of the airport.  
𝗧𝗼𝘂𝗿𝗶𝘀𝗺 𝗯𝗼𝗼𝘀𝘁 𝘀𝗲𝗲𝗻 𝘄𝗶𝘁𝗵 𝗽𝘂𝘀𝗵 𝗳𝗼𝗿 𝗖𝗹𝗮𝗿𝗸 𝗮𝘀 𝗻𝗲𝘅𝘁 𝗺𝗮𝗷𝗼𝗿 𝗴𝗮𝘁𝗲𝘄𝗮𝘆  
Recalling the Luzon leg of her listening tours held last year in Clark where stakeholders have manifested the need for collaboration and support in terms of boosting the arrivals to CRK, Secretary Frasco expressed her optimism with the upcoming plans of Clark, saying that its "journey towards becoming a major gateway has already commenced."  
Secretary Frasco also noted that Clark already has the infrastructure, only that there is a need to fully maximize and coordinate all the feeder services surrounding the airport. "And this is where our local government units are very important and critical, recognizing that beyond CDC, of course, is the territorial jurisdiction of our mayors and governors," Secretary Frasco said. 
The DOT chief also announced the upcoming launch of the Philippine Experience in Region 1 by July this year; in CAR by October; in Region 3 by December; and in Region 2 by early next year. The DOT's Tourist Lifecycle App, which will provide information to tourists on all the country's regions and tourism offerings, will be released in mid-2023. 
Expressing her optimism towards Clark and the CRK, Secretary Frasco said "There's much to hope for Clark, and we in the DOT will continue to support all your efforts to ensure that travel and tourism continues to be a spark of hope for Clark." 
Joining Secretary Frasco, other DOT officials, and DOTr Undersecretary Lim are BCDA Senior Vice President Arrey A. Perez, CAB Executive Director Carmelo L. Arcilla, CAAP Deputy Director General Atty. Danjun G. Lucas, Clark Development Corporation (CDC) President CEO Atty Agnes VST Devanadera, CIAC President and CEO Engr. Joshua M. Bingcang, and LIPAD CEO Noel F. Manankil.  
Also present are local government officials from the Provinces of Pampanga and Tarlac, Angeles City, municipality of Capas in Tarlac, regional officers of the Bureau of Immigration, Department of Trade and Industry (DTI), Subic-Clark Alliance for Development (SCAD) as well as representatives from the private sector including the International Air Transport Association (IATA) Philippines, Philippine Airlines, Cebu Pacific, Air Asia, Air Swift, Korean Airlines, Royal Air, Airline Operator Council, Board of Airline Representatives, and the Air Carriers Association of the Philippines.
-30- 
PHOTO: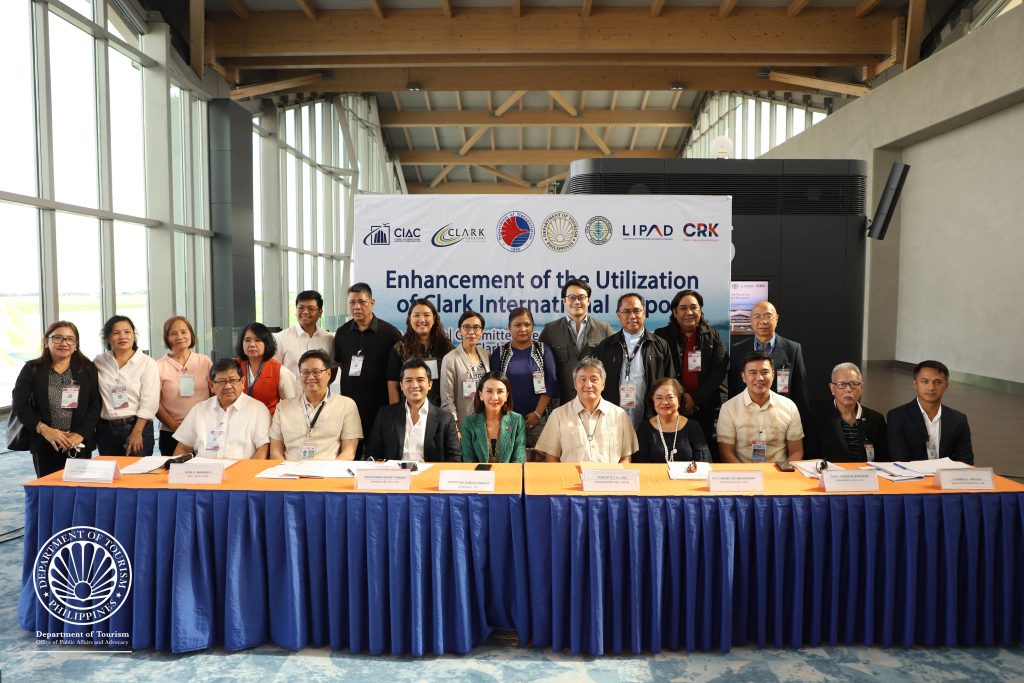 Published:June 3, 2023
Recent News